[unex_ce_button id="content_h71nnh4ak,column_content_kwunz1900" button_text_color="#ffffff" button_font="regular" button_font_size="24px" button_width="auto" button_alignment="left" button_text_spacing="1px" button_bg_color="#ff7800" button_padding="0" button_border_width="0px" button_border_color="#000000" button_border_radius="0px" button_text_hover_color="#000000" button_text_spacing_hover="1px" button_bg_hover_color="#ff7800" button_border_hover_color="#000000" button_link="http://blecourtdesignmanagement.nl/designmanagement/" button_link_type="url" button_link_target="_self" has_container="" in_column="1"]Designmanagement[/ce_button]
Vindbaarheid van informatie en vrijheid van mogelijkheden
Voor Rabobank heeft Louise in samenwerking met Petr van Blokland een designmanagement-tool ontwikkeld. Door het herstructureren en visualiseren van de huisstijlinformatie wordt aangegeven wat de vrijheden zijn van de Rabobank huisstijl. Dus een positieve benadering van de mogelijkheden inzichtelijk maken.
Daarnaast wordt het beheer door deze tool vereenvoudigd doordat de content van ruim vijftig, voorheen handmatig bijgehouden, boekjes gedigitaliseerd is. Content is daarbij uniek (bronbestanden) en kan worden aangepast waarmee deze informatie op meerdere plaatsen tegelijk mee verandert. Het is dus minder handwerk, overzichtelijker en vlotter in beheer. Ook hebben verschillende gebruikers eigen autorisatie om hun eigen rol met de tool te kunnen vervullen, zowel intern bij Rabobank als bij leveranciers.
Het genereren van een automatische opmaak was rond 2009/2010 geheel nieuw. Petr van Blokland vertelt daarover tijdens Typo Berlijn in 2010: "A solution to that is making applications that can generate new lay-outs automatically from the changing ratio of the page and changing the size of the page. And there isn't anything yet.....to go from a printed bid-map to an intelligent page that knows how to make its lay-out." En dat is wat onze tool voor Rabobank deed in 2009 🙂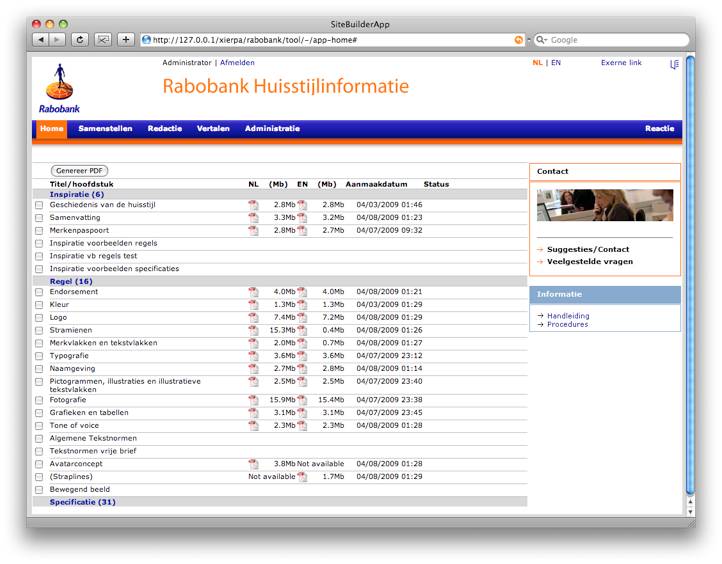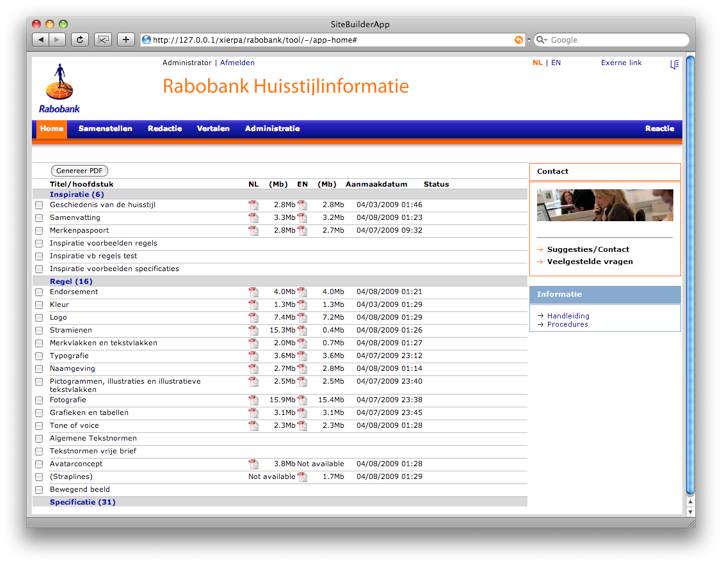 Designmanagement-tool voor Rabobank.
Petr van Blokland on the Typo Berlin 2010 talks about programming design.